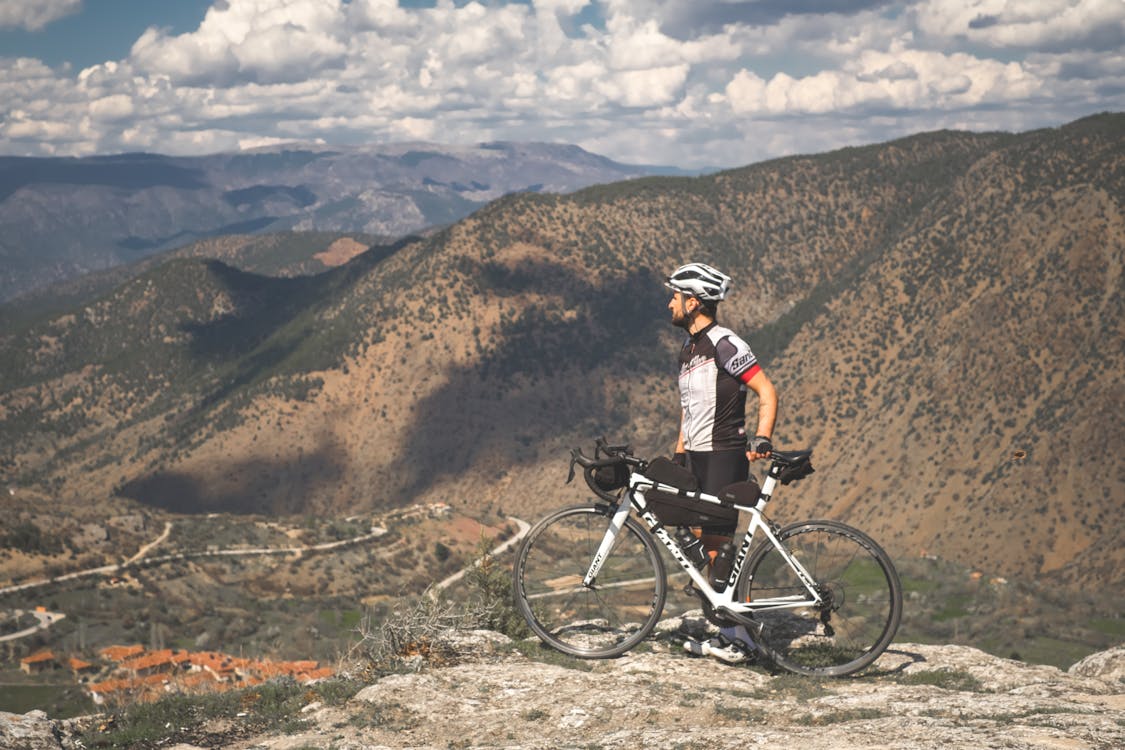 Generally, your average mountain bike can hold up to 300 pounds at speeds of up to 10 miles per hour. However, this may vary from bike to bike due to the different materials that manufacturers use to build them. But, most bikes in the market these days can carry that amount of weight.
What weight can a mountain bike hold?
Like cars and other types of bikes, mountain bikes also have a limit on how much weight they can hold. Yes, it is true that mountain bikes are made to be durable with strong and thick materials, but they also have their limits.
Apparently, most mountain bikes these days can only hold up to 300 lbs. But, that's only if you're moving at a speed of 10 mph on normal terrain. However, this may depend on several factors: the wheels, tires, frame, suspension, handlebars, and seat.
Wheels
When it comes to the weight that a mountain bike can carry, the wheels are one of the parts of a mountain bike that plays a huge role. This is because this part is the first that comes into contact with the ground and it's always under stress.
Add in the impact and the weight of the rider, that pressure that the mountain bike takes could be enough to deform the wheels' rims.
Tires
A mountain bike's tires compress easily on impact. The thinner it is, the worse it is for bearing weight.
But, if it's thicker, it can provide more cushion to your bike. As a result, your weight is distributed better.
Frame
The materials used to build a mountain bike's frame also come with their own stress tolerances. Steel and steel alloys are some of the materials that can make a mountain bike's frame the sturdiest. Hence, you'll see these in bikes that are meant for plus-sized riders, as well as cargo.
Aluminum is also one of the strongest materials in the market that can make your mountain bike sturdy. It ranks a close second to steel and steel alloys. Thus, it's also used in bikes made significantly for plus-sized riders.
Carbon fiber and titanium are also used to build a mountain bike's frame. They are considered strong materials.
However, they are more brittle when compared with the first-mentioned materials when used under heavy weight. This is due to their spare design.
Suspension
A mountain bike's suspension can also affect the amount of maximum weight that it can take. Apparently, this is because they're not stiff enough for heavy riders.
Because of this, if you come across a bump in the road, this will make your bike drop hard on the suspension. As a result, an unsafe and uncomfortable ride.
Handlebars and Seat
The handlebars and seat serve as your contact points with your mountain bike. These two can provide and improve the level of comfort that your bike can provide and affect its weight capacity.
This is because these parts help in distributing your weight more evenly throughout your bike. The narrower they are, the harder it would be for you to use it comfortably if you're a plus-sized rider.
What is too heavy for a mountain bike?
Mountain bikes are usually made with strong and durable materials. Since these bikes are used in the dirt, gravel, and rocky paths, it is important that such bikes are made to last longer despite the impact and pressure.
But then, again, it also has a limit. For typical mountain bikes, anything that weighs more than 300 lbs. is already too heavy.
However, it may also vary depending on the materials used to build it. If your mountain bike is made out of a carbon fiber frame or if its wheels are bigger than 26 inches, simply adjust downwards 20 lbs.
What bikes are good for heavy riders?
When riding a race or road bike, you need to hunch forward over a crossbar. You may find these uncomfortable. In some cases, cyclists prefer upright bikes because they allow for more natural postures. 
Additionally, they provide more room if necessary for a large belly. In this case, an upright Dutch-style bike is a good choice. But, there are a lot to choose from.
Dolomite 26″
You might consider starting with the Dolomite 26″ if you can't find a bike that fits your weight. The Dolomite can take riders up to 350 lbs. 
Designed for all kinds of terrain, it is fitted with huge, super-sized 26″ x 4″ tires. People who are overweight will find it very comfortable since it has hydraulic disc brakes. The frame of the Dolomite is another aspect bikers love. The geometry is perfectly suited to big and tall guys. 
In terms of price, however, Mongoose Dolomite is an outstanding choice. The average price of the bike is between $400 and $600, which is crazy for something of such a high-quality bike.
Cannondale Trail 7 (2021)
The $700 Cannondale Trail 7 (2021) is probably one of the most popular mountain bikes for heavy guys. It can carry up to 330 pounds.
The great thing about that price tag is you get a lightweight aluminum frame with a lot of awesome dirt-ready components. Shocks and bumps are more than enough smoothed out and absorbed by the front suspension, an SR Suntour XCT DS with 100 millimeters of travel. 
Having high-quality front suspension combined with these sturdy tires makes for a smooth, zippy, and comfortable ride. Another thing worth mentioning is the shifting.
Pure Cycles Gravel Adventure Bike
When it comes to road bikes that are capable of carrying tall and heavy riders both on and off-road, the Pure Cycles Gravel Adventure is a great choice.
With its steel frame, this gravel bike is a great example of the rigid, high-quality, old-school frames that many bikers love so much. Here's a bike with everything you could ask for – from the Shimano Claris STI drivetrain and Shimano shifting to the excellent Hutchinson tires.
When it comes to heavy riders, good, reliable wheels are one of the most important features to consider. A set of WTB STP i23 32-hole rims, stainless steel spokes, and Hutchinson Override 38mm tires are featured on this model.
Priority Continuum Onyx
With its comfortable ride for big and tall guys, the Priority Continuum Onyx is a crowd-pleaser, but you don't have to be a millionaire to afford it.
In order to ensure safety, style, and simplicity while riding the Onyx, the safety light was relocated to the handlebars for easy accessibility.
Utilize the Enviolo CVT shifter grips to accommodate hills, flats, and bike paths with ease. You can remain in your nicest pants or jeans because the Gates Carbon Drive belt and cable routing system eliminate the need for grease and rust.
Although the Tektro Hydraulic brakes are very powerful and stop on a dime, the belt drive and NuVinci hub are the features that may win you over.
Can you be too heavy to ride a bike?
In case you plan to take up cycling, remember that most bikes are designed for people under the weight of 220 pounds. When the rider is too heavy, the bike's warranty is voided. 
If you weigh more than 220 pounds, you might want to consider a bike made for heavier individuals. If you've got the funds, talk to a bike shop about getting a Chromoly bike with tubes that are thicker-walled and larger. You can always choose from a variety of bikes.
Heavy cyclists may find some more suitable than others. A typical bicycle can support riders up to 220 pounds. There are, however, a few exceptions. 
When the weight of your load exceeds the bike's carrying capacity, two things can happen. First, the rims may bend. Second, the spokes may break. Bikes designed specifically for heavy riders solve this problem.
Therefore, you should pick a bike that has a load capacity that exceeds your weight. This way, your biking gear can be loaded. And you'll have a safer and more comfortable ride.
Therefore, you should pick a bike whose load capacity exceeds your weight. In this way, your biking gear can be loaded.
Can a 400-pound person ride a bike?
Mountain bikes may have weight limits but that doesn't mean that plus-sized riders can't ride a bike because of this.
Fortunately, mountain bikes on the market these days come in various sizes and weight limits. So, you'll surely find the right mountain bike for you even if you weigh 400 lbs.
Knowing how to choose the right bike for your weight is helpful, especially if you're a plus-sized rider. In addition to oversized welds and tubing, heavy man bikes normally have wider and deeper rims, rigid suspensions, and wide and deep rims.
It's critical to find a bike that can withstand the extra pressure while still feeling comfortable to ride. To put it differently, heavier riders require heavy-duty bikes that can handle the extra pressure.
Careful selection of parts is essential for heavyweight riders. Nonetheless, a 400-pound rider should be able to ride a mountain bike or road bike. By investing in a sturdy, muscular bike, you can get more exercise, discover a healthier you, and improve your quality of life.
Over 400 lb riders have a large variety of choices, each fitting different riders, riding styles, and terrain. While it might take a bit of digging to find the right answer, the effort will definitely be worth it.
Mountain bikes these days come in a variety of sizes for women (and men). So no matter how heavy or light you get, there's surely a bike that's for you.